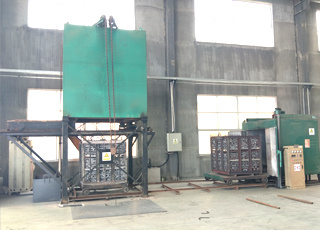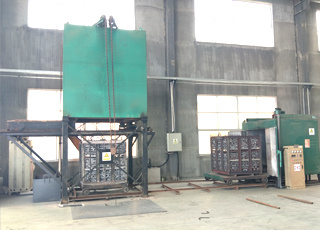 Heat treatment operation area
The company mainly produces and operates electric power fittings, iron accessories, composite insulators, cable protection tubes, anti-bird equipment, cement products and so on.
In order to meet the needs of our customers, we have established forging and stamping workshop, machining workshop, high and low voltage casting workshop, composite insulator workshop, mould workshop, assembly and packaging workshop, hot-dip galvanising workshop, which are adapted to the manufacturing and processing of electric power fittings. We have copper and aluminium friction welding; turning, milling and drilling; stamping, forging and hydraulic pressure; aluminium alloy casting; heat treatment; profile extrusion; moulding and silicone rubber injection, etc. We have implemented the on-site management methods of lean production, standardized operation and 5S visualization.

In order to ensure product quality, the company has a material mechanics, chemical and electrical testing laboratory. The company implements TQM total quality control, raw material inspection, first and last piece inspection, process inspection, final inspection of finished products and other control means, in strict accordance with national standards for production and inspection, to ensure product quality.



Electric power fittings, iron accessories, composite insulators, cable protection tubes, anti-bird equipment, cement products